Hiring Effectively – My Talk at GAWCPA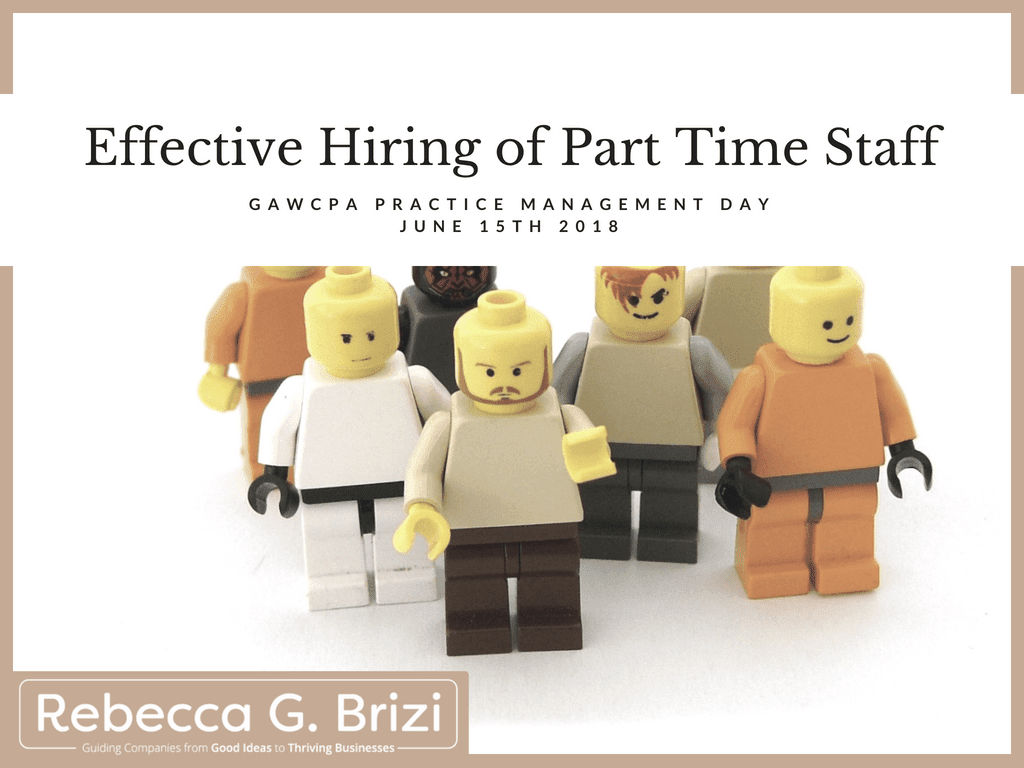 A couple of weeks ago I had the pleasure of opening a continuous education day for the Georgia Women CPA Association (GAWCPA).
My talk was entitled Effective Hiring of Part Time Staff, and was an adaptation of a training I provide in creating an effective and repeatable hiring system.
Hiring is a struggle for any business – the costs associated with the wrong hire can be onerous, and if new employees are not properly trained and informed, then task delegation is impossible. Effective hiring is, in other words, about risk mitigation.
Below is a short overview of my talking points.
Repeatable Systems
Keep a complete and up to date list of roles in your business and the associated responsibilities. This list will first of all ensure that all important roles are covered. A second review will also confirm that you have the correct people in the correct seats.
From here, it will be clear who it is you need to hire.
Hiring
Remember that a job spec is about attracting the best candidates. You don't want everybody to reply: you want the ideal candidates to reply.
Make sure your job spec sells your company, states the responsibilities of the role and explains to the reader "what's in it for them".
Interviewing is the other tricky part of hiring: focus on the open-ended questions. Getting the candidate talking will reveal what is important to them and how they handle workload, people and difficult situations.
Training
It is your responsibility to ensure your new hires know the things they need to know. Be specific and explicit about your product or service, your clients, your values, the tools you use, your communication preferences, etc. Explain to your new hires what success look likes, so they know what to work towards.
A structured on-boarding and training process is essential to an effective and long-term hire.
Do you need guidance in hiring systems for your company, or are you part of a membership organization who would benefit from this talk and the associated worksheets? Contact me to arrange an engagement.